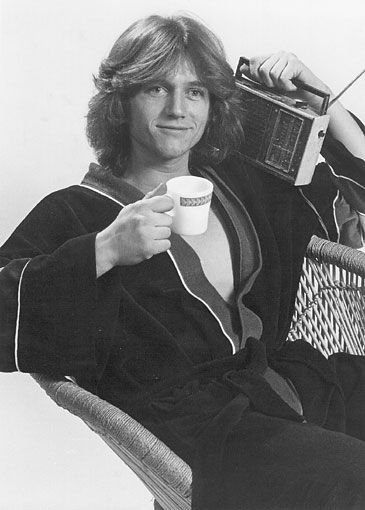 All I ever wanted to be was a DJ. When I was in the 6th grade, I would stay awake in my bed at night with a portable AM radio and listen to The Wolfman or XEROK bouncing off the stratosphere. When I was 16 years old, my father helped me get a weekend job working at a 1000 watt FM station on the Mexican border where he was doing some contract engineering work. I would drive down from Tucson every weekend to learn the craft.
The entire buzz in Tucson at the time was about a magical station that was doing things that went totally against all the unwritten rules radio had laid itself prostrate to. There were female DJs (a complete oddity), no jingles, no format, no pukers, no contests, no horns, bells, or whistles. It was KWFM, of course, and I knew I had to be there.
Allan Browning must have been completely bewildered to see a high school student show up at his office with a demo tape and an application. But there I was. I pestered him for months... perhaps even a year or two. He just kept explaining that he couldn't hire me until I was at least 18 years old. I think maybe this was his nice way of letting me know that I really sucked too badly to be on the air.
The holidays have a way of completely messing up the on-air lineup at any radio station. Everybody wants to take some time off and there are never enough competent part-timers to fill the task. Saddled with an attempt to give the full-timers as much time off as he could, Allan's holiday scheduling dilemma provided me with an opportunity that would override my teen-age incompetence. The day after my 18th birthday, on December 20th, 1978, I got the call from Allan and received what I thought was the best birthday present I could have ever asked for. I would be on the air, 2:00 am to 6:00 am Saturdays and Sundays.
That birthday present turned out to be a strange trip that graduated into a full-time overnight slot and lasted for three or four cloudy years. Somewhere through those clouds, vague memories sometimes poke through to the surface; babysitting a certain DJ after he put drops of LSD-25 into his eyes while on the bus to the Springsteen show at ASU, sexual escapades on the control room floor after 'KWFM Night at the Outlaw', the meetup at the studio every week to consume a 1970s sacrament during the 'L.A. Stereo Hour', Smiley's, The Sawmill, 'Drink and Drown' at the Night Train (all you can drink, all night for $4.92), The Magic Bus, incense and wind chimes in the studio, pissing from the 7th floor balcony at 3:00 am, and the sense that everyone in Tucson was connected by a common denominator: 792-9292.
I arrived as an innocent, out-of-place kid. I left (before the corporate virus infected everything) as a young man, knowing that I had seen and lived something special, knowing that what makes things great in this world is not trying to be like everyone else, but being yourself and breaking the rules. That's what we did at KWFM; it wasn't just the music. For better or for worse, that spirit lives with me today. I grew up on North Stone, seven stories high.
— Charlie Morriss, November 2004